Each of our annual fundraising activities has a great impact on the operation of our medical, surgical and continuing education programs which benefit the most vulnerable people in Honduras.
Our fundraising activities give you the opportunity to show your support for those in need.  You can purchase tickets, become a sponsor and/or make a donation at these events.
Food For Healing
Saturday, May 21, 2022
Join us for an enjoyable afternoon of food, drink and good company at the home of Deb and Joe Marino. We hope to see you to celebrate the success of the nutrition program that you make possible.
RSVP by May 15, 2022 to marinojo@hotmail.com or by text to 330-289-5970
Whether you are able to join us, or not, please consider being a sponsor and making a donation to the camo nutrition program. Checks should be made out to: CAMO/ memo line: food for healing 2022
If you prefer to learn more about our program or make an online donation, visit our Food for Healing Campaign landing page by clicking here.
Golf Scramble
On June 11, 2022
CAMO's annual Golf Scramble is held at The Pines Golf Club in Orrville, OH rain or shine. Teams gather early in the morning for a complimentary breakfast before hitting the golf course. The game is followed by a lunch, silent auction, and raffle.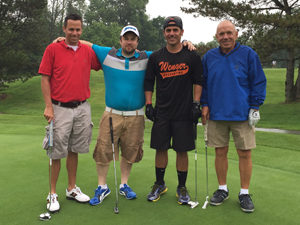 Saturday, September 17, 2022
CAMO's Salsa Sizzle is an annual fundraising event held in September  at the Greystone. The night is filled with live Latin Jazz music, delicious Latin-inspired food, a celebrity bartending competition, and both a live and silent auction. All proceeds from this event benefit the programs and services which are in the most need of funding.
We put the FUN back into Fundraising!!  Please join us.
The Annual Salsa Sizzle will be held at the Greystone on September 17, 2022 – make sure to Save the Date!