President's Cookbook: CAMO fundraiser to be held at wooster inn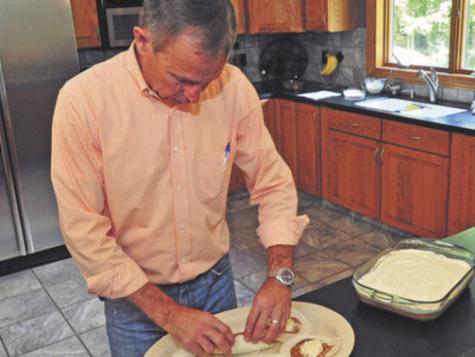 WOOSTER, Ohio – Do you like authentic cuisine? Dancing? Raffle prizes?
If you do, plan to stop by the Salsa Sizzle being sponsored by Central American Medical Outreach at the Wooster Inn Patio, 801 E. Wayne Ave., on Saturday, 6-11 p.m.
The event, which will feature hand-prepared Honduran dishes, will raise funds for Casa Hogar, a domestic violence shelter for women and children in Santa Rosa de Copan in Honduras.
Domestic violence is a continual issue within the country CAMO serves. As of last year, around 27 percent of women in Honduras reported they have experienced physical violence at some time in their lives, according to cipamericas.org. In 2012, the Statistical Observatory of the Public Prosecutor's Office reported over 16,000 cases involving violence against Honduran women.
An alarming 74.6 percent of those had to do with domestic violence.
Tickets cost $40 (check or cash) or $43.25 (credit card) and can be purchased online by following the registration link on CAMO's Facebook page. For more information, call 330-683-5956.
CAMO has been servicing the medical, educational and community development needs of those in South America since it was founded in 1993 by former Peace Corps nurse Kathryn Tschiegg. Each year, the Christian-based organization provides more than 140,000 life saving services to those in the grips of poverty.
Members of the organization regularly make trips to Honduras for hands-on volunteering.
"I've been involved with CAMO since 2003 and have lost track of how many times I have been to Honduras, although I believe that it is over 20," said Michael McClintock, president of CAMO's board. "What keeps me coming back is their model of sustainability. Every program that CAMO supports is done collaboratively with Honduran counterparts. The collaborative approach not only ensures the continuation of the programs, but it also gives the Honduran people a sense of pride and ownership in what they have accomplished."
McClintock is heavily involved in the Wooster community, serving not only as a vice president and regional manager of the Commercial & Savings Bank, but also as a member of the Wooster Noon Lions, the Leadership Wooster steering committee and the Wooster bike trail committee.
Born and raised in Wooster, McClintock's father, Ralph, grew up in the Creston area while his mother, Annemarie Heckman, grew up across the pond, in Germany. McClintock has siblings all over, living in Ohio, Alaska, Colorado, Maine and Florida.
His wife, Robyn, also works as a vice president and regional manager of the Commercial & Savings Bank. The couple has three adult children. Adam McClintock, married to Samantha, works at McClintock Electric and also serves as a volunteer fireman. Those two are the parents of Michael's grandson, Braxton Michael. Erin McClintock is attending Miami University of Ohio and Lauren Cormell is leaving for Marine boot camp in January.
If McClintock isn't occupied with his day job or his numerous organization affiliations, he likes to challenge himself with long-distance bike rides and finding his way to any and all Dave Matthews Band concerts.
Although McClintock enjoys seafood or steak, he also likes to treat his family to a meal at a nice sushi restaurant.
He mentioned people often tell him his grilled steaks are the best they've ever had.
 – Written by Emily Votaw, Reporter at The Daily Record